Is it time to redesign your work life?
Life changes, we evolve – yet often our careers don't.
When you've spent years - or decades - building a career, it can be confronting to realise it's no longer working for you.
As a professional, you're probably not used to feeling uncertain or anxious.
Yet so many people feel this way about their career.
Considering change comes with significant financial and emotional risk.
That's why we created this programme.  To help you understand how you've changed, reframe how you're working and make choices with confidence.
Because it's not just about coming up with ideas — It's about putting your intentions into action.
Bringing you a world-leading process to navigate your future
If you're ready to adapt your career to align more with your lifestyle, take advantage of 'new ways of working' and gain more fulfilment from your work – then this programme is for you.
Our methodology allows you to unpack insights about yourself, giving you the evidence and support you need to make courageous choices for your future.
We'll also help you craft a compelling story about your unique value – so that you feel confident and energised to create the change you need.
Aligned with Stanford's Design Thinking framework, this proprietary methodology represents years of research, providing you with a trusted process to follow at your own pace.
4 HOURS OF VIDEO TUTORIALS
18 DOWNLOADABLE ACTIVITIES
UNIQUE SET OF VALUES CARDS POSTED TO YOU
TRUSTED PSYCHOMETRIC TESTS
That's why we created this programme - to help you understand how you've changed, reframe how you're working and make choices with confidence.
Set your vision
Unpack your experiences
Identify your skills and capabilities
Clarify your purpose
Determine your personality and values
Rank your needs
Choose your causes
Develop your career canvas
Generate ideas
Design a pathway
Evaluate risks
Make a decision
Complete your career canvas
Develop opportunities and make informed choices with confidence, by crafting an intentional career pathway, reducing risk & complexity.
Create the resources you need to take action, and position yourself confidently to activate your new career plan.
Craft your story
Develop a targeting plan
Do your research
Make contact with an employer
Prepare for an interview
$
295
NZD - One off payment
1 hour of online tutorials

Risk evaluation methodology

Personalised career canvas
TAKE ACTION
Online course
$
295
NZD - One off payment
1 hour of online tutorials

CV & cover letter guidelines
FULL PROGRAMME
Online course
$
785
NZD - One off payment
4.5 hours of video tutorials

18 downloadable activities

Unique set of values cards

Access to trusted psychometric tests
Designed for professionals just like you
There's never been a better time to write your new work story.
Because at some point work becomes no longer just about money or status – it's also about happiness. And fulfilment. The ability to use your craft for the people and causes you care about.
So – what do you care about? And how can you use your expertise & wisdom to have more impact?
This programme will help you be more intentional and enable you to:
Hundreds of professionals have followed our programme to build careers they love.
● Re-align your work with your new lifestyle and values
● Recover from burnout from doing more meaningful work
● Reduce your 'anxiety of options' and choose the right path for you
● Take away the risk of poorly designed career change
● Confidently tell your 'story' and successfully transition to a new role or business
Trusting Career to Love gave me personal insight and incredible clarity on what I want my future to hold. While emotionally challenging and hard work, this was without doubt the best personal and career development course and toolbox I've experienced. The genius of Career to Love is how Melissa has integrated multiple strands of world leading self-development tools and career design, crafting them into focused modules with practical tools to guide decision making and future focus. I now have a clear view of what I want my future to be, and how I'm going to get there.
Melissa has the kind of deep experience and approach to make working with her a simply awesome experience. She challenged me to think broadly, creatively and also courageously and in so doing, I got much needed clarity on my professional value and possible future paths. Highly recommended!
Melissa has an amazing ability to help you very quickly understand your core drivers. She is very insightful, and her methods were easy to follow. I'd recommend Melissa and this programme to anyone who is looking for a change of direction and renewed purpose in their career.
Melissa's energy, experience, knowledge and enthusiasm delivers self discovery, awareness and growth to both professionals and Startup's. I can honestly say that every founder that has had time with Melissa, comes away with positivity and forward-drive
This programme has proven to be incredibly insightful, encouraging and worthwhile. I'm excited to embark on my new career path, with an activation plan laid out. I am raving about this service to all who will listen. Would 100% recommend, well worth the investment!
Melissa's ability to help you to truly get to the heart of what "you are about and what drives you" is amazing. As a result of this process I was able to look for - and get - the job I truly wanted. I'm still in that job and deeply passionate about it!
Making the decision to leave a safe corporate job is never easy. For me there was a lot of risk involved, but this process helped me to minimise those risks by identifying the right options for my skills and values. I have now forged a new and profitable business as a result. Without the kick-start this process gave me, I would be a lot more lost and not certain it would have even happened!
"Happiness comes from finding
your craft."
– Yale Professor Dr. Laurie Santos, The Happiness Lab
Melissa knows what it takes to build a career to love. With of 25 years of global leadership and C-suite experience, Melissa's breadth of knowledge comes from a corporate background in marketing, fintech, government, education and design.
Qualified in Design Thinking from Stanford University, California
Qualified in Leadership from Columbia University, New York
Qualified in Organisational Agility from Tech Futures Lab, New Zealand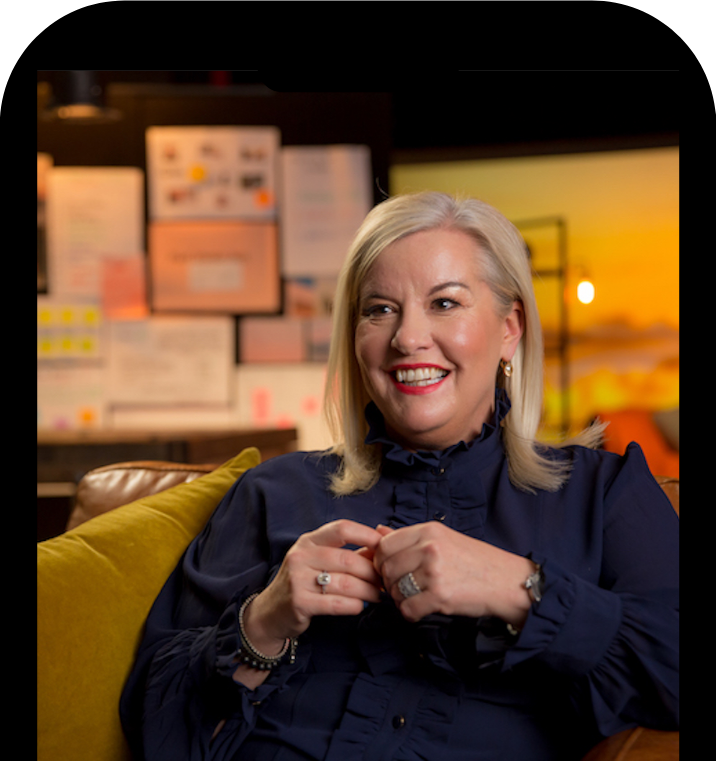 "I found my purpose after decades working for the wrong companies, doing work I wasn't meant for. My self- identity was deeply enmeshed in my work. And I had become unhappy, and I didn't know why. I had lost track of my values, and I was working for causes that didn't matter to me.
When I stepped off the safe corporate pathway and into the unknown – it all became clear. My creativity returned, and passion for something bigger than me, emerged. And now, I am doing work that I love."
My mission is to help you find work that you will love. Because it matters.
Book a private Career Strategy Workshop
Melissa hosts tailored workshops for select senior executives, who need the time and space to unpack and design a significant career shift. Working together you will benefit from:
Her 20+ years of leading strategy & building senior teams
A tailored & personally designed workshop to plan your future in confidence
The option to bring in 2-3 'life stakeholders'
A personal Story, Value Proposition & Career Transition Plan
FULL DAY WORKSHOP
Online activities + 1-1 Career guiding
$
1,900
NZD - One off payment
Tailored plan to suit your needs

Available either online or in-person

Personalised Value Proposition

Ability to create a group workshop for 2-3 life stakeholders
Watch a preview of the programme
Want to learn more about the programme and my approach? Take a sneak peak into how our programme works and start building a career to love right now!
It's designed for executives who have a lot at stake, and need support securing career choices that are right for them. People who are looking to align their work more with changing lifestyle and values. This course is designed to meet you where you are and give you the tools and confidence to transform your career. Ideally suited for anyone hitting fatigue or burnout and looking for help to navigate towards a new future. Though created for professionals seeking change in their work life, the programme is beneficial for anyone who is looking for better clarity in their career.
Are there specific start dates?
No, this course is self-paced. Everyone's journey is personal, which is why group workshops aren't included.  Instead, the programme allows you to work on your ideas privately, taking away the complexity with a world-leading, innovative & proven process.
What will I gain from this programme?
This course gives you a much deserved opportunity for self-reflection and discovery, that is a crucial first step when making a big life decision such as a new job or career. You will learn about your changing values, your personality and work-type, your true capabilities, and learn what future pathways or 'ways of working' will work best for you. You will craft a 'career canvas' - your unique story of all you have, all you need and what you offer. You will generate and reduce your ideas, and design an action plan to move you forward. You will also get help crafting a powerful market 'story' and learn how to target the right business venture or organisation for you.
How does the programme work?
We've designed our content to give you the space you need to find clarity and move forward with confidence.  When you invest in our programme, you're immediately given access to our full set of resources, designed and tested over 6 years.  You will receive video tutorials and downloadable activities, to work on in your own time. You'll also be sent a physical pack of  values cards, which are a proven way to help you understand what matters most to you.
Use all of these resources at your own pace. Our programme focuses heavily on allowing you to identify your true potential and use personal insights and evidence to guide your career realignment. You'll be asked to self-reflect, look for patterns, and find your own drivers of future happiness.
Can I also receive one-on-one coaching?
Every person holds a unique set of skills, values and motivations. No two careers will look the same, because no two lives or people look the same. While our course is designed to help guide you through your individual process, one-on-one coaching can help you gain even deeper clarity to actualise change in your career.
Melissa is a highly-trained expert in career coaching, and has helped hundreds of professionals across a range of industries build careers that they love. An outsider can often see things that you can't. Coaching gives you the safe space you need to begin your work transformation. You can purchase coaching sessions with Melissa (or others in the team) separately to the online programme.
What if I'm not ready to leave my current role?
That's great! Career to Love isn't always about starting a new career or quitting your current position. It can simply be about gaining clarity on the pathway you are in, and what the stages are in progressing your craft - either in your existing company, or in another - or starting your own!  For some people, realigning their career might mean moving on from a dysfunctional company, but for others it means restructuring the way they are working, navigating a better path within their current organisation, or gaining clarity on what they want to achieve next, so they have the confidence to negotiate what they need with their employer