We offer a range of workshops, coaching and consulting services to help individuals and companies - wherever they are at - create sustainable career journeys, and build creative cultures. Whether you're looking for that next job or transforming you're entire career or workforce, STARTNow enables you to decide which path is right for you
STARTNow: Chat
So many people have told us about the many challenges they face when trying to navigate a new path forwards. Whether it be deciding which role fits your goals, understanding the risks of setting up a new business, figuring out the best way to present your skills, or getting ready for a big conversation with a new partner or employer. Often all it takes is having an experienced "someone" at the end of the phone to talk impartially with you about your options. So we've decided to step in. Our new CHAT service gives you the opportunity to have access to an experienced career designer or recruiter to 'chat through' your options and get immediate review of your approach, answers and direction. We offer unlimited chat for a set monthly price on a number of platforms e.g. whatsapp, messenger etc.
More info
STARTNow: Pathway
We spend so much of our time working, we don't often get a chance to step back, reflect and define what it is we want and need for our future. Pathway is ideal for people looking to make a change, and are exploring options for a new job or career and seeking fast validation that they are on the right path. In our 90 minute virtual facilitation session (offered 1-to-1 or in a group format), we'll help you to 'unpack your brain' by evaluating your options, make some choices and give you a clear set of actions to move forward with.
More info
Book a Free Consultation
STARTNow: Purpose
Finding your purpose and understanding your true value is hard to do on your own, and much harder without a process. Given we spend one third of our life working, knowing what brings you meaning and how to apply it as a vocation is critical to making decisions for your future happiness. Purpose is a three hour personalised workshop that will help you understand what you value most, what brings you meaning, and how these combine with your transferable skills, to enable you to move forward with purpose.
More info
Book a Free Consultation
STARTNow: Activate
Are you preparing to take the leap into starting your own business? Have you got lots of ideas you're working on, but don't know how to decide if any of them are viable? Activate is a three hour workshop that will give you the tools to move your thoughts from loose ideas into tangible concepts and make decisions. You'll learn the art of prototyping, to fail fast and build a business sketch plan to get you started. 
More info
Book a Free Consultation
STARTNow: Design
When you've built up a successful career over a long period of time, there's a lot at stake if you get it wrong. We've created Design for professionals who are looking to make a transformational change in their working life. Designing this transition is hard to do on your own, and almost impossible without a robust process. Working with you over 3 x 3 hour workshops, our coaches (and people you choose) will help you carefully evaluate your options, design your next 'play' and give you the confidence and tools you need to start moving forward. This series fully embraces human centred design and treats you and your career as a business design challenge. 
More info
Book a Free Consultation
STARTNow: Human Innovation
We are living and working in an unprecedented time of change. Organisations are needing to adapt to changing ways of working, super-diverse customers, implementation of AI and robotisation of jobs and processes – the list goes on. Now's the time to design the workforce of the future and embrace human innovation – enabling your talent to reinvent with you. Human Innovation is a range of services that we offer to organisations who have a desire to take a humanistic and inclusive approach to the re-design of their workforce.
More info
Book a Free Consultation
STARTNow: Mentoring
Once you've made the move to change your career, it can be hard to stay on that journey. Whether it's coming up against roadblocks implementing a new plan, deciding between two valid options, or just finding the time or motivation to keep going - we know how you feel! We have two mentoring packages that can help you stay on track to achieve your goals. 
Find out more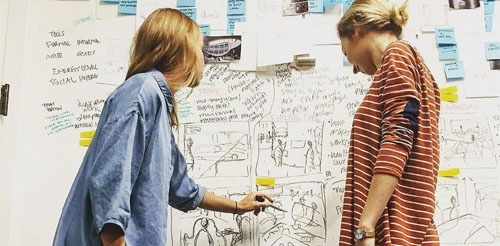 STARTNow: Plan Peer Review
Some people are self-starters - you may already have developed a plan for your future but lack that independent, experienced set of eyes to review and challenge your plans. Being open to adaptation and new ideas can be the difference between a good, and a great roadmap. Take advantage of our Peer Review service and get access to our Founder Melissa Jenner for as much time as you need to challenge and iterate your ideas.
Find out more