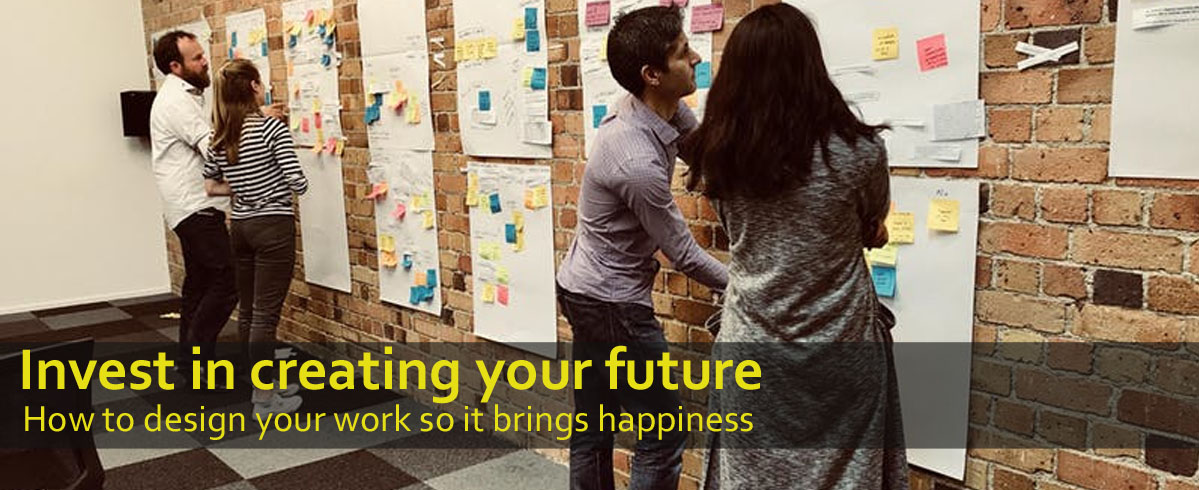 Design your future A career planning workshop Saturday 13 July, Saturday 17 August, Saturday 7 September 10.00AM - 3.00PM
---
Here at STARTNow our purpose is simple - to help people gain more meaning from their work.
Over the past two years, we have helped many people re-invent themselves - by either changing jobs, pivoting their skills into a new career, or starting a new business. People from all ages and backgrounds have benefitted from learning how to use the power of design, to gain more happiness and meaning from their work.
---
Now's your chance design your future career.
---
Book now to attend our lively and interactive, three hour workshop, where you will create:
A Personal Purpose statement: explore your values, your beliefs, your 'skills stack', and your needs so you have clarity about what matters to you and what direction you should take.
Generate three 'possible alternative futures' for yourself: Generate new ideas both independently - and together - giving you a range of directions for how you could pivot or transform what you have into something that will bring you more sustainable value.
Build a Test plan that minimises your risk: We show you how to reduce the risk of failure when pivoting your career into a new direction, through creating small tests and experiments to prove if your ideas will work.
Craft a Commitment plan to get you going on your journey, from the day you leave our workshop. An actionable, realistic work-plan that will get you started plus keep you on track.
---
---
Designed to propel you forward, starting from where you are right now.
---
This workshop is designed for people at all levels and stages of their career. Whether you are currently happy but curious about future options, ready to change but face many options and choices, or ready to move and planning a new business or creating a new role for yourself - this is the perfect way to get started!  
Join a like-minded group of career innovators, learn some unique and easy-to-use tools, to get you started on your next career plan - and have lots of fun!
---
An interactive 4 hour workshop, led by experienced facilitator Melissa Jenner, founder of STARTNow
Morning tea, a START Journal and worksheets
Networking with other career innovators and so much more.
For further event updates, make sure you are following us on our Facebook page
Venue:
The Icehouse
125 St Georges Bay Road
Parnell, Auckland
Click here for directions
Time: 10.00 AM - 3.00 PM